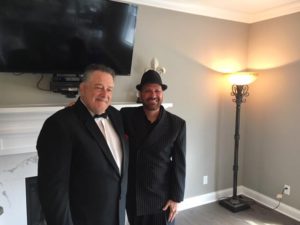 By Debbie "D2" Edwards
Music is powerful! It has the ability to impact our feelings, motivating us sometimes, relaxing us other times. Good music transcends years. Great music transcends decades, perhaps even centuries. Those of us who have varying musical tastes really appreciate the songs of yesteryear; those songs that express love and passionate sentiments in the classiest, most genuine manner. Songs that one can relax, have a cold, soothing drink, and reminisce about the memories that are marked with special songs.
Brad recently interviewed local crooner Jim Bulanda, and what a treat that was! Jim's claim to fame is that he specializes in all things Sinatra, and anyone who knows Brad knows that he absolutely loves Frank Sinatra. They both were in their element, as they talked all things Sinatra.
What I enjoyed so much about this interview is that Jim spoke about how his career as a Senior Salesperson for General Dynamic Natural Resource Division bridged over into his singing career. One would think that the two careers have very little in common, however, this isn't the case. A salesperson must be persistent in following up on leads, and the same is true of an entertainer. Jim spoke of the highs and lows of the business.
Sometimes the phone is ringing off of the hook, and other times, there is radio silence. How does one manage the highs and the lows? In Jim's words, "you get off of your butt and use the skills that you were given". This wisdom can be applied to all of us, regardless of what our chosen profession is. Life is not guaranteed to be easy. Many times, we must "sell ourselves". We must look inside of ourselves; take inventory and see what our best qualities are. Good advice!
Jim spoke of his childhood with such fondness. He spoke of his Italian heritage; tracing his ancestry back to 1076 AD. As a child, he did impressions, sang, and performed comedy for his family. Something that started as a hobby grew into a fulfilling career. How many of us have talents or interests that we have not developed, but if developed, could lead us to a rewarding method of expressing our creativity? How important it is that our families are places where our creativity is both developed and encouraged?
In this world that is increasingly geared towards technology, how important is it that we continue to develop our love and appreciation for the arts! How important it is for us to appreciate good movies, good music, good stories, good conversation. We seem to be losing sight of this; gravitating towards hobbies that don't involve very much interaction with others. It's refreshing when we can have conversations about things that we have a common interest in.
As talented as Jim is, as beautiful of a voice that he has, as much as he reminisced with Brad, as entertaining as he is, this interview was so much more than those things. This interview was a throwback to an era where music was refreshing, where people perfected their craft, where the gift of music was given to those who yearn for it, both now and in the future. It was indeed a treat for Jim to entertain us with "All or Nothing at All". Beautiful song, beautifully sung, and beautifully written.
Through the hustle and bustle of life, through the ups and downs, through the challenges, I invite you to sit back, relax, and enjoy the beautiful and soothing style of Jim Bulanda. Check out his website, www.tributetofrank.com. Take in a show or two or listen to a sample of his music on his website. It will reinforce in you an appreciation for the time that music was music, and that music will live on indefinitely.