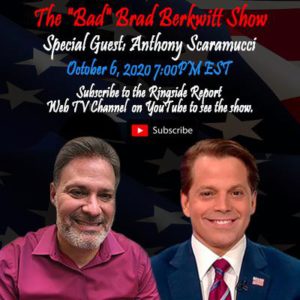 BBB Press Release
What do you get when put two New York Italians together? A recipe for an exciting interview from the man with the pinky ring and the New York Thing …. Fuggedaboutit –"Bad" Brad Berkwitt. On October 6th, 2020 at 7:00PM EST Anthony "The Mooch" Scaramucci is the special guest on The "Bad" Brad Berkwitt Show.
Berkwitt made his comeback to interviews after a long hiatus early this month with his special guest, Mary L. Trump.
You will not want to miss this interview.
Subscribe now so you will be notified when the show is loaded to the Ringside Report Web TV Channel.