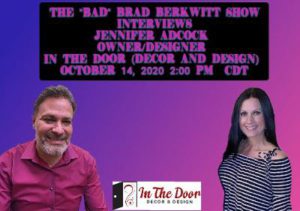 BBB Press Release
Image by HRAJ
During Covid-19 my better half, Debbie, has increased her online shopping habits by two-fold! Since she has great taste and my philosophy of "you cannot take it with you," Deb spends! Some of the things that she loves buying is home décor.
She met the Owner & Designer of In The Door (Design & Décor) Jennifer Adcock online, purchasing some beautiful items for our home. I wanted to bring various guests on from the business world to hear how Covid -19 has affected them and to get their stories out. On Wednesday October 14, at 2:00 PM CDT, Adcock will be the special guest on The "Bad" Brad Berkwitt Show.
Check out Jennifer's work on Etsy.
You will not want to miss this interview!
Subscribe now so you will be notified when the show is loaded to the Ringside Report Web TV Channel.