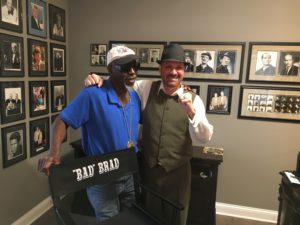 By Debbie "D2" Edwards
Who of us has not experienced adversity? How do you view it? How do you react when life presents difficult situations? Can you muster the strength to continue to fight through the trials that life presents? Can you see that the paths that are littered with potholes and sharp turns sometimes brings you to a destination that can change the course of your life?
The truth is that most of us have experienced some sort of unpleasantries in life. Whether it's sickness, the loss of a loved one, financial setbacks, or disappointment, we all have something that at one time weighed upon our hearts. And while situations like these aren't necessarily limited to the things listed above, the things that may have troubled us may lead us down a path that could hold untold blessings and life altering experiences.
Recently, Brad and I hosted "Sugar" Ray Seales. You may remember Sugar as the 1972 Olympic Gold Medalist. Sugar Ray Seales won this gold amidst turmoil that occurred at the Olympics in Munich, Germany. His path to the Olympics was not trouble free either.
"Sugar" Ray Seales is a native of St. Croix, US Virgin Islands. What started out as an unfortunate accident to his brother lead the Seales family to relocate to Tacoma, Washington. "Sugar" Ray Seales' brother suffered a severe injury to his eye. His uncle referred the family to a physician in Tacoma who specialized in treating such eye injuries. It was there that "Sugar" Ray was introduced to boxing. Had his brother not been injured, the family may not have moved to Tacoma, and he may not have taken up boxing.
Once "Sugar" Ray started boxing, he became determined to succeed. He set before himself the goal of winning gold, and he did so in 1972 in Munich, Germany. However, even this rose had a treacherous thorn. A massacre occurred where 11 Israeli Olympic team members were held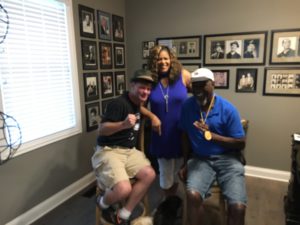 hostage, and along with a West German police officer, were killed by a Palestinian terrorist group called the Black September. There was total chaos in the Olympic Village, with the games being in jeopardy. "Sugar" Ray related how he was worried about his parents and getting word to them not to come to the village.
He also spoke about having to pull himself together and get his mind right to be able to compete. I was never a boxer, but I have heard more than a few of them say that the mental preparation to a fight is crucial to being able to execute in the ring. One must focus and be able to put away any distractions. I cannot imagine the emotional turmoil, the uncertainty, and the fear that must have been going through the minds of those participating in the Olympics that year. "Sugar" Ray Seales was able to successfully overcome the weight of the hysteria that surrounded him, becoming the only American boxer to win a gold medal in the Olympics.
That accomplishment culminated with a successful pro career in which he won the NABF and the USBA middleweight championships. Still, in the process, "Sugar" Ray suffered a detached retina in a fight in 1981 in Baton Rouge, Louisiana, eventually retiring in 1984.
Soon after retirement, he became a high school teacher for 17 years, teaching children with autism life skills ad self-sufficiency.
Boxing came calling again, and currently, "Sugar" Ray is a coach in Indianapolis Indiana, having coached to 10 Golden Gloves Championships at IBG gym, with his fighters winning first place 6 years in a row.
Through all his struggles and despite the physical setbacks that he sustained during fights, "Sugar" Ray had a focus and a tenacity that enabled him to achieve his goals. He had some very poignant words for those who are seeking to follow in his footsteps: "Focus and Listen! God gave you two ears and one mouth. Shut your mouth and listen!"
Those who have paved the way and attained the goal have earned the right to speak so strongly. Many are seeking to achieve the same things that he did and would be wise to heed his words.
The blueprint for success has been laid. The plans have been shared. The road will not be easy. There will be sacrifice. There will be blood, sweat, and tears. The difference between those who reach their goals and those who don't can be summed up in this manner………… listen to those who have succeeded. Focus on your goals and what it takes to achieve them. Do your best. And remember to prepare for tomorrow.
To "Sugar" Ray Seales I say, "thank you" for bringing home the gold! Thank you for continuing to make a difference in people's lives, thank you for giving back to the community, and thank you for your words of wisdom!